Blonde Hair Extensions in Bangkok
Zenred Hair Salon only imports the Best products and our hair extensions in Bangkok are some of the best value in the world. Thanks to Thailand's wonderful cheap cost of manual labour and a cheaper cost of living, travelers and tourists can get top quality services at fraction of the price at Zenred Hair Salons in Bangkok.
For those of you looking for Blonde hair extensions in Bangkok you will struggle to find good quality hair extensions that are 100% human hair. We actually specialize in Blonde hair extensions from platinum blonde to strawberry blonde to ash blonde and more. If you are worried about having those reddish hair extensions which are usually commonplace when trying to turn Asian hair blonde, please don't worry.
Our Blonde hair extensions in Bangkok Zenred are beautiful and top quality, they have a nice gloss shine and should last well without tangles provided you take care of them and perform the proper hair extension maintenance and care required.
Zenred Bangkok Extensions Techniques For Blonde Hair
We use a special natural keratin bond that will blend in with light coloured hair types. Our Blonde hair extensions can have the choice of 3 different types of extension bonds. Hot fusion bonds or micro ring cold fusion hair extensions. All of these extension techniques will be suitable for light or medium blonde hair types.
Book your Blonde Hair Extension Bangkok Packages Today at Zenred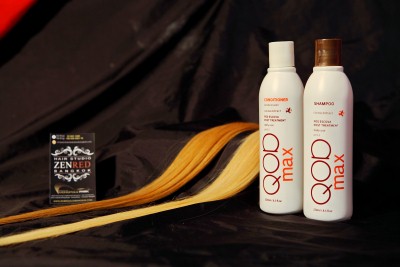 Quality Bangkok Hair Extensions are an Investment
You can always get cheap and cheerful hair extensions elsewhere in Bangkok but if you want Bangkok hair extensions that you can love the same as your own hair, that don't require constant attention and combing out the tangled mess and that are a investment and something you can keep and use again and again if you look after them, Consider spending a little bit extra for premium grade Hair extensions. The price for extensions goes up each month so you are making a good investment.
Asian Hair or European Hair or Indian Hair Extensions Best?
Some experts agree that Indian remy hair is of the highest quality and it is used by companies Like Great Lengths Hair Extensions. Some others say European hair comes a close second, usually because European hair is easier to colour match to a western hair types because it is not generally as dark.
The Truth is hair is either good quality or bad quality from how well it was looked after and how much it has been treated previously. Hair just like people is an individual case by case concept. Some people have great conditioned hair and others don't.
We actually prefer Indian hair or Asian hair because in most cases the hair has never been treated with colour so its healthier. And is generally in better condition due to favourable weather conditions and oils compared to thinner hair types from Europe, however this always open to debate.
The main advantage of pure hair extensions is the fact that it can be treated just like natural curly hair, meaning it is easier to look after. It can be blow dried, dehydrated, curled and dyed more. Although it just isn't a good idea to overdo the chemicals treatments and colours as the hairs quality needs to be maintained if they are to last.